QU Men's Basketball Homepage
QU Men's Basketball 2011-12 Statistics
NEC Men's Basketball Homepage
QU Ticket Information Homepage
"Marquis Barnett: The Second Half" by Tracee Loran, UWANTGAME (January 17, 2012)
BROOKLYN, N.Y. – Quinnipiac University men's basketball student-athlete Marquis Barnett was featured in UWANTGAME, an organization that focuses on helping student-athletes reach their potential in academics, athletics, and personal growth. The story, written by Columnist Tracee Loran, highlights Barnett's transition from a challenging childhood to a second chance at QU.
The story includes a conversation with Barnett following an away game at St. Francis (N.Y.). The 6-foot-8 forward is averaging 1.1 points and one rebound in just over seven minutes per game.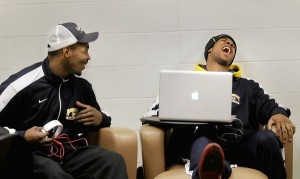 QU returns to action on Thursday, February 2 at Fairleigh Dickinson. Tip-off is set for 7 p.m.
Contact: Tony Distasio; Ardistasio@quinnipiac.edu